Maintenance and Monitoring
UIS offers bespoke maintenance and monitoring packages to suit all of our clients needs. If you take out one of our maintenance contracts, you will receive the following benefits:
Access to our dedicated and experienced engineering team

24 hours a day, 365 days per year. 
Friendly and fast response (4-hour response for Intruder)
Reduced call out rate and priority over none maintained clients.
Annual preventative maintenance visits – our engineer will attend your premises and carry out a thorough inspection of your system.
UIS specialise in CCTV maintenance and an important part is our CCTV Maintenance Division.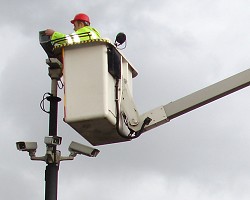 Fully equipped with its own mobile 'cherry-picker' lift and static hoist, the CCTV team is able to carry out a thorough repair and maintenance service that covers all elements of a CCTV system including cameras, lenses, mounting brackets, lighting, IR lamps, transmitters and multiplexors.
The team also maintains digital and video recording equipment, processors and remote surveillance monitoring systems, as well as providing advice about environmental factors such as lighting and the effect of potential obstructions such as foliage and parked vehicles.
The CCTV Maintenance Division operates throughout the UK and is fully trained in all the key aspects of CCTV technology. Staff are able to carry out on-site repairs and are equipped with an extensive range of replacement parts to ensure that faulty or degraded equipment can be put back into service as quickly as possible. Similarly, the use of its own access vehicles means that the team can carry out maintenance work in busy public areas with minimal disruption to traffic and people's working routines. By removing the need for hiring access plant, UIS is also able to reduce the cost of such projects to its customers.
We can provide monitoring solutions to suit the individual needs of our clients for both Intruder and CCTV systems.  Monitored systems provide 24 hour remote monitoring 365 days per year for your peace of mind.
UIS work in partnership with our approved ARC Securi-Guard who were established in 1997 after the construction of a  purpose built ARC, Securi-Guard Monitoring based in Plymouth is one of the largest independent monitoring companies in the United Kingdom.
UIS and Securi-Guard Monitoring pride ourselves on our commitment to our clients and strive to provide a professional and friendly service, which satisfies all your monitoring requirements, throughout the UK and Europe, using the latest technology.
UIS and Securi-Guard Monitoring supply a wide array of monitoring services including intruder, fire and ancillary alarms and BS 8418 CCTV monitoring, as well as lone/vulnerable worker monitoring and vehicle tracking/monitoring using the latest in Alarm and CCTV monitoring technology, with a wide range of signalling systems:
Redcare – including SecureRange and Redcare Complete
CSL – Dualcom including GSM and Gradeshift Dualcom
Emizon – 21 Dual Path IP signalling
WebWayOne – IP/GPRS, GPRS/PSTN Dual Path signalling
Digital Communicator, fast format, SIA and Contact ID
All Securi-Guard Monitoring services are operated from the companies NSI GOLD Accredited Alarm Receiving Centre (ARC), NSI GOLD Remote Video Response Centre (RVRC) and Thatcham Approved CAT5/NSI Gold Systems Operating Centre (SOC), 24 hours a day, 365 days of the year.
The Police, Fire authorities and insurance companies acknowledge Securi-Guard as a security provider and we are also proud members of the British Security Industry Association (BSIA).
As family-run businesses UIS and  Securi-Guard Monitoring always attain high standards and understand that although all our clients' needs may be different, the service levels remain the same.